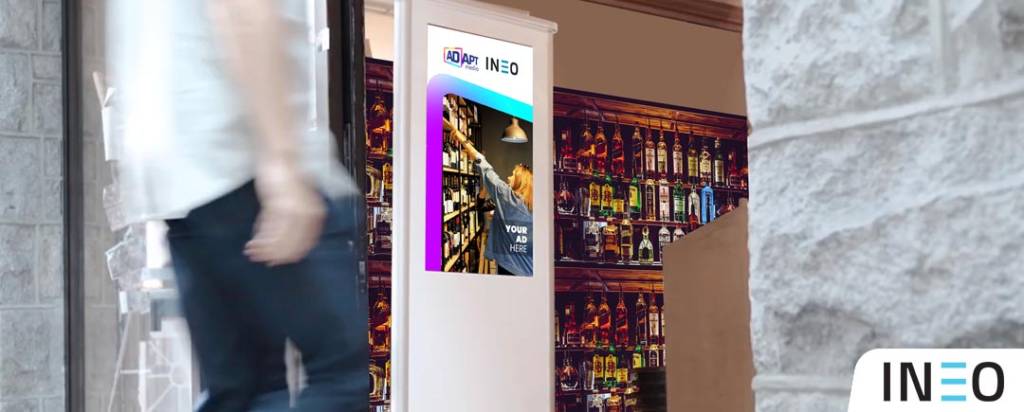 The partnership will boost Adapt's Western Canadian presence
Digital OOH company Ineo has signed a partnership with Adapt Media to market its inventory to Adapt's clients. Ineo operates a retail media network of digital OOH boards. According to the company, its network reaches 111 retailers – the majority of which are currently beer and liquor stores – that draw a total of 2.3 million visitors monthly.
Toronto-based Adapt provides street level and in-store place-based advertising in over 1,000 cities and towns across Canada. Its screens can be found in Circle K and other convenience stores, airport lounges and DriveTest centres. Kyle Hall, CEO of Ineo, says Adapt's presence in the Toronto area and its strong national footprint will contribute to Ineo's advertising pipeline. Much of the company's Canadian business to date has primarily been focused on Western Canada.
"With their help in marketing our ad inventory, Ineo will gain access to increased national advertising campaigns and a broader range of potential customers," Hall says. "Additionally, Adapt's expertise and reach will enhance our retailer acquisition efforts by bringing another credible partner to the table to drive the advertising revenue for INEO and our retail customers operating within our advertising supported model." Amanda Newell, Adapt's chief revenue officer, says that the new deal will make the most out of Canadian advertisers' increased reliance on retail media to target shoppers at the exact moment of purchase.
"Ineo's AI-fueled DOOH will allow our national advertisers to truly monetize eyeballs by both capturing shopper attention with eye-grabbing offers and netting consumer demographic data to allow for current and future tracking on their path to purchase," explains Newell.
Last month, Ineo announced a partnership with DOOH-focused platform Broadsign to make ads on its OOH network available programmatically